This is a training stick that could easily replace the ball machine! A more affordable alternative for goalie training!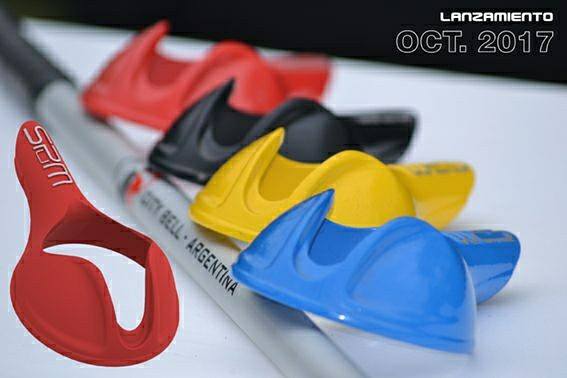 Today we are introducing the SPUM to the world. This is a training device developed and manufactured in Argentina, specifically designed for the training of goalkeepers. It was designed in VJC and by the industrial designers Pablo López and Joaquín Altamirano.
This device is very beneficial for both goalies and coaches because of its ergonomic design which allows the shooter to direct the ball with precision and power from an upright position, maintaining the same consistency in a very high percentage of shots during a training session or drill.
The SPUM presents an aluminum body with a "spoon" (which took a lot of studies in order to get the proper shape) that surrounds the ball and generates a "catapult" effect. In recent years it is common to see hockey goalkeepers training Lacrosse sticks (a very popular sport in the United States) where the stick ends in a "basket or net". The main difference between the SPUM and that type of sticks, is that this one is specifically designed for hockey training and has the advantage of being able to repeat the same shot over and over again, while the Lacrosse stick has less accuracy since it was not designed for this task .
The SPUM was tested by Ignacio Ledesma, current goalie coach of Argentina. During several training sessions with the National Team, Ignacio used it in several drills and improved shooting technique and shooting skills. In this video we can observe a training session with Juan Manuel Vivaldi where the SPUM is being used.
If you are interested in getting a SPUM to use during your training sessions with goalkeepers, contact Pablo Lopez (+54-221-481-9610⁠) or Ignacio Ledesma (+549-115-599-1430). If you learn more and receive more technical details about SPUM, follow them on Instagram (@vjchockey).