Initially 950 players met on January 26th, 2017 during the celebrations of India's Republic Day. They got together at the LNIPE Hockey Stadium in Gwalior, where 742 players achieved the goal of keeping the ball in the air for 30 seconds, 208 failed though. These numbers were enough to set a Guinness Book of World Record mark as the highest number of people keeping a hockey ball in the air for 30 seconds.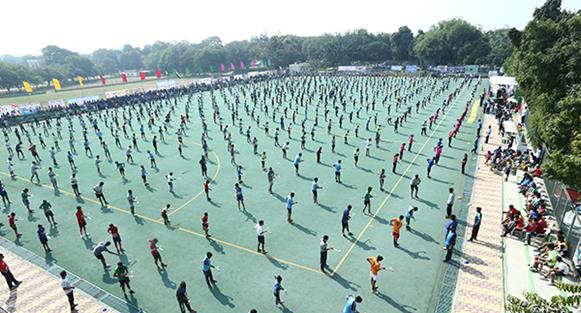 If this is not unique enough, apparently there was a previous the record of 'most people keeping the hockey ball in the air for 30 seconds', which was held by the United Kingdom where 250 participants did the same.
The Madhya Bharat Hockey Association organised this event and, according to participants, an entire year of practice went into the successful completion of this incredible attempt to break the world record. The initiative had the intention of promoting the sport and getting more players involved with hockey!