Georgia Nanscawen: Between the Hockeyroos and Entrepreunership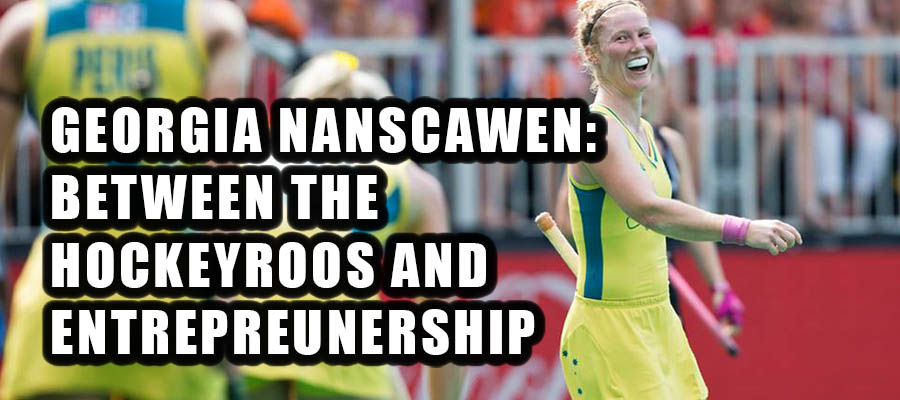 Georgia Nanscawen is not only one of the most important players in the Australian Hockey team, the Hockeyroos, but is also a young entrepreneur outside of hockey. Little Pippin Creations is the company that she created that was born out of her passion for cooking. She started playing international in 2009, at the age of 17, when she made her International debut, becoming the third youngest woman in history to play for Australia. 
---
1. How did your start playing hockey ?
 I began playing competitive hockey at the age of 5. My mum played (and still does play) hockey, and so from a very young age I was down at her training sessions hitting balls around. I loved it! When I turned 5 my parents enrolled me in the local club in Melbourne, and it all began from there!
2. How did Little Pippin Creations started and what does it means to you?
Although hockey is my priority, I believe it is very important to have a balance in life, and have other interests outside of sport. Over the years I have developed a great love of food. I have always loved to eat, but since moving to Perth in 2011 I started to really enjoy learning to cook as well. Being an athlete, I understand that nutrition is important, so I aim to make food that is both tasty, but also good for me. I started to get some good feedback from my friends and teammates who I would cook for, and they would often ask me for my recipes. By starting up Little Pippin Creations, I have the opportunity to share my recipes and my love of food with not only the people close to me, but potentially people all over the world. I love hearing from people that they have enjoyed my food or made one of my recipes-it makes me feel really happy!
3. Although hockey is a big part of life, you said in your website that "it is important to live with some balance". Tell us about your entrepreneurial venture with Little Pippin Creations and how it reflects on the balance between hockey and life.
The other side to Little Pippin Creations focuses on my interest in graphic design. Although I hope to be playing hockey for many more years, I understand that no one can play forever, so it is important to think about a career after sport. I began studying graphic design at university, and although I have had to stop to focus on my hockey, I hope to go back to it when I finish playing. Despite not being at university, I am still able to keep busy doing some jobs for some casual employers, and also for my friends and teammates that need work done. I have found this balance to be perfect, as I am kept busy, but do not feel stressed that it will impact my hockey. And it is also something I really enjoy doing!
4. How do you balance your time between training and being an entrepreneur?
Organisation has always been one of my strong points. When I was first selected in the Hockeyroos I was still at school, so got very good at balancing my hockey commitments and my study. Although we train everyday, most of our sessions are early in the day, so we have a bit of free time in the afternoon, which is perfect for getting my design jobs done, or planning my next cooking creation!
5. What lessons from competitive sports can you transfer into your business? What are the points in common between the two activities?
I think that playing competitive sport at an elite level has taught me a lot of discipline, organisation and communication. I believe all of these are important in both sport and business.
Here you can watch one of her recipes (login to your facebook if you cannot watch it):
Delighted to be asked to make a raw cake for my good friend Kellie White for her birthday dinner. Can't go wrong with a bit of Banoffee Pie! Happy birthday Kell! Recipe up on littlepippincreations.com soon!

Posted by Georgia Nanscawen on Wednesday, 15 July 2015